Face app is the new application which lets you use filters to have a look into your transformed future and is creating a buzz in the town. It caught the attention of netizens and now a days, everybody is talking about this app. This app has completed almost 50 million downloads on Google Play store and users from all around the globe are really enjoying this app. As soon as the app hit the internet, the netizen went into frenzy mode to try this filter on Bollywood celebrities and they came up with some pretty amazing results which we will show you in pictures below.
From Arjun kapoor to Varun Dhawan and Shekhar Ravjiani to DeepVeer fans were curious to see how their favorite celebrities will look in their old age.B
Tapsee Pannu is an amazing actress and she is well acclaimed for her acting skills. Recently, she shared a picture from her upcoming movie Saand Ki Aankh, in which she is playing the role of a 60 year old woman. She shared her aged look on her instagram account and captioned, 'this is a real picture, not a product of face app filter'. She took the FaceApp challenge to another new level!!! Right?
Usually, face app adds extra wrinkles and grey hair to original pictures. So, everyone is giving a try to this interesting app and posting the older version of their original pictures.
Here are some awesome clicks of Bollywood superstars with old looks which mostly has been created by Bollywood fans.
Ranveer Singh and Deepika Padukone:
Ranveer Singh is the big name of Bollywood industry. Ranveer and Deepika are known as the perfect Jodi of Bollywood Film Fraternity. Audience loves their sizzling chemistry on screen and off screen. Recently, one of their pictures got viral on internet, when fans applied the face app on their wedding picture and posted it on social media. And the best thing about this picture was that, the couple can be seen together in their late 80's. Ranveer singh was looking dapper in grey hair and beard, while Deepika was looking graceful with those wrinkles and fine lines.
Face app challenge has created a boom in the industry and it is spreading like fire. Every star has accepted this challenge. The most amazing thing is, some of the clicks were really funny. On the contrary, it was difficult to recognize some prominent faces like Aishwarya Rai, Kareena Kapoor Khan and Salman Khan.A
Recently, face app filter was used on one of Aishwarya Rai's Cannes Film Festival pictures. But the result was really shocking, as it was difficult to recognize the old age version of Aishwarya but fans still loved her look and praised the wrinkles around her colorful eyes.
Salman Khan:
Salman Khan, a renowned name of Bollywood, who has crossed his 50's, one of his pictures is getting the attention of audiences where he is looking as dashing as he is today!!!
Varun Dhawan:
Look at those abs of Varun Dhawan in 60 year challenge! A picture shared by him on Instagram!!!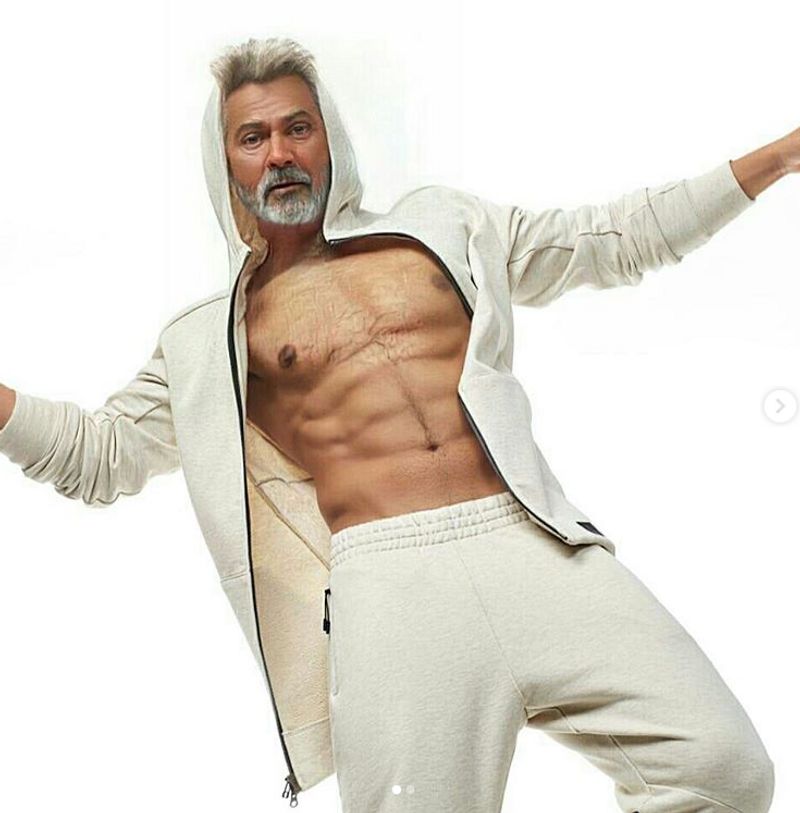 Although this Faceapp challenge as fun as it could be but you should also know the security concerns attached with this application which may end up in stealing your private information according to different reports disseminated in media!!